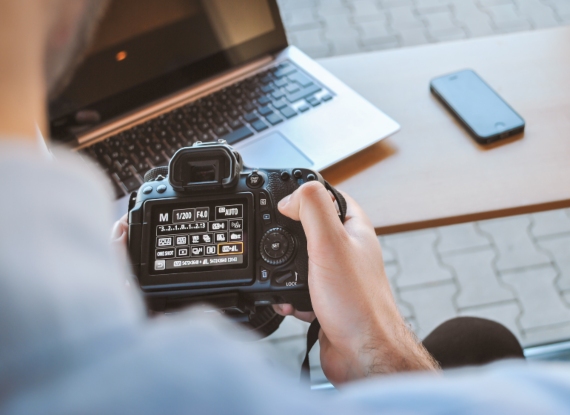 How to Get Found in Google Image Search Results
If you search for SEO strategies online, you will rarely encounter anything about image search results. This is a shame since image search is often an untapped traffic source.
Gartner says that early adopters that redesign their websites to support visual search will increase digital commerce revenue by 30%.
Be one of those early adopters. You may be surprised to discover how much traffic and revenue you will generate from making a few simple changes.
Let us discuss how you can get found in Google's image search results.
Use unique images.
Using unique images on your website helps you stand head and shoulders above the competition.
Let us say you sell a product that you purchase from a distributor. They provide product images and descriptions that you can easily publish on your website.
You are most likely not the only person using those product images. Competitors use them as well.
When potential clients look for the product on Google, they'll similar images in search engine results.
This is why using unique images is crucial. You stand out from the crowd amidst identical product images.
Granted, not everyone has the time or resources to create original images. You still have another option.
Use stock photos but modify them. Add graphics and text or change the colours.
Canva
If you do not have photo editing skills or have access to editing software, give Canva a try.
Canva is a free photo editing tool with built-in templates. You can create blog posts images, infographics, Facebook posts, Instagram posts and more. There is an available option for every imaginable need.
Format images properly.
Once you have chosen your images, ensure they are properly formatted before uploading them.
Image Size
Back in mid-2018, Google rolled out its Speed Update. The update made page speed a major factor in mobile search engine rankings.
Creating quality content is still as important as ever. However, having a fast website could give you an advantage.
Optimising your images is one of the easiest ways you can speed up your website. If you upload an image that is too big, it will look the same as a normal-sized image.
The difference is, it will take up more time and resources to load. Your website will be slower without an additional benefit.
If you have already uploaded hundreds of images, you might be wondering how to resize everything.
Give Bulk Resize a try. It is a free tool that lets you resize several images at once.
Image File Type
If you have been using computers for a while, you must be familiar with image file types. The are several like PNG, GIF, JPG and SGV.
These file types serve a different purpose. You need to choose a file type depending on the purpose of your image.
JPG is the most common image file type you will find online. This file type is suitable for standard website photos.
PNG is a lossless image format. This file type has a transparent background and is often used for logos.
GIF is a file type for animated images. It is often used to convey humour or strong emotion. If it fits your brand, using GIF may be a good idea.
Use alt tags.
An alt tag is a short description that appears when an image fails to load. It provides users context regarding the image, but it does so much more than that.
Alt tags give you another opportunity to use your target keyword. They provide information about the image to search engines and make indexing it easier.
Google is smarter than ever. It can usually identify the content of an image. However, it still is not 100% accurate. Improve your image's chances of ranking higher by providing a concise description.
If you use WordPress, adding alt tags is easy. Whenever you upload an image, you will see a text field where you can enter an alt tag.
As much as possible, write an alt tag for every image you upload.
Keep your alt tags short but specific. For example, if you are uploading an image of a phone, do not write "smartphone." Include the brand and model.
Keep users in mind when writing alt tags. You might be tempted to use jargon and verbose language. Stop yourself. Think of the phrases potential clients will use to find your image, and use them in your alt tags.
Conclusion
Optimise images for search engines is a potential source of traffic. It requires minimal effort but could yield great results.
Use unique images to stand out from the competition. If you do not have the resources to take your own photos, customise stock photos instead.
Format images properly. Ensure they are sized properly and that you're using the correct file type.
Alt tags provide information to search engines about your image. Add one for each image on your website. Keep it short and to the point.
Need help optimising your website? Get in touch with Cornerstone Digital, a Sydney web development company. Call us on (02) 8211 0668 or email us at info@cornerstone-digital.com.au.
Comments (0)
Trackbacks (0)
Darlyn Herradura
A self-professed book and digital marketing nerd, Darlyn Herradura focuses on building trust between customers and businesses with the written word. She understands that creating valuable content is the best way to get found online and happily spends her time doing that.